The year 2020 quickly came to a close, and goodness it was a year. Not just being an election year, but also a year with a global pandemic, we have all been affected in ways like never before. One theme that has been heard over and over again is the impact that this year has had on the mental health of individuals across the country. Among all of the chaos, many may have forgotten about the opioid crisis we have been battling over the past 2 decades, but the individual, families, and treatment facilities involved have not. In fact, the connection between mental health and addiction may mean that the pandemic is negatively affecting or diverting efforts to battle the opioid crisis. With everything going on, we are left wondering… how many people are addicted to opioids in 2020?
Opioid Addiction Facts 1999 to 2018
Addiction to opioids has been an issue for longer than we may know, however, the issue has grown to epic proportions since the start of the millennia. This growth is greatly associate with the manufacturing and increased prescribing of opioid pain pills. The following statistics summarize the severity of this epidemic over the past 2 decades:
Nearly 450,000 individuals died from opioid-related overdoses between 1999 and 2018.
Between 1999 and 2018, overdose deaths involving prescription opioids, heroin, and synthetic opioids increased 6-fold.
2013 marked the start of a 3rd and most significant wave of opioid-related overdoses, in which synthetic opioid-related overdoses skyrocketed.
Opioid Addiction from 2017 to 2019
After the drastic increase in the number of opioid overdoses during the early 2000s, the U.S. government took action and dedicated billions of dollars and countless resources to fighting this epidemic. With increased awareness and efforts in regard to preventing opioid use, the goal has been to decrease the number of individuals who develop new opioid use disorders and/or dependence. The question is, "did it work?" and "how did the events in 2020 effect these efforts?" In other words, how many people are still addicted to opioids in 2020? 
Here are some of the statistics for what we were seeing as we were approaching the year 2020:
The number of drug overdose deaths in 2018 decreased by 4% compared to 2017
Drug overdose deaths were 4x greater in 2018 than they were in 1999
2 out of every 3 overdose deaths in 2018 involved some form of opioid.
Nearly 47,000 individuals died from opioid overdoses in 2018.
32% of all opioid deaths in 2018 involved prescription opioid medications.
While opioid addiction continued to be a significant problem, it seemed that from 2017 through 2019, the number of overdose deaths started to level off. We even saw a decrease in 2018 – the first decrease in more than 2 decades! Unfortunately, we were not ready for what was to come.
2020 – 2021: The Resurgence of Opioid Epidemic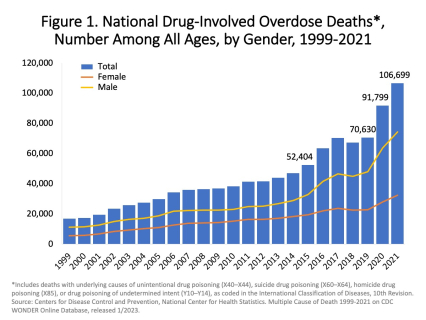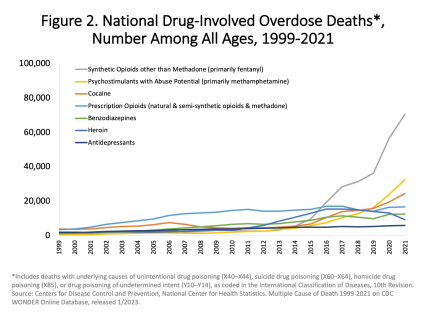 It didn't take very long into the COVID-19 pandemic for people to begin to become aware of the indirect effects on people's mental and physical health. The isolation, fear of going to a hospital, and redirection of resources blatantly took a toll across the globe. And this all happened just as we thought we were starting to get the opioid epidemic under control. 
In 2020, there were 91, 799 overdose deaths in America. That is an increase of more than 20,000 overdose deaths compared to 2019. Unfortunately, the bad news doesn't stop there. That number proceeded to skyrocket to 106,699 overdose deaths recorded in 2021, with the vast majority of these overdoses being attributed to fentanyl use.
The message is clear: the government's tactics to slow the opioid epidemic were no match for the COVID-19 pandemic and our country is in crisis.
What Now?
This is the question we are all asking. What now? How do we stop the pain? How do we stop these overdose deaths?
Surely, if there was an easy answer we would have seen some action by now and we do not claim to have the answers. That being said, we cannot just sit back and do nothing. So here are a few things that our society should be doing now:
Funding the education of more doctors, nurses, mental health counselors, and other medical professionals.
Increasing education on the use and addictive nature of opioid medications.
Increasing access to mental health counseling.
Increasing access to addiction treatment (all forms).
Talking about the reality of opioid addiction to eliminate the stigmas of getting addiction treatment.
Sources:
https://nida.nih.gov/research-topics/trends-statistics/overdose-death-rates